Communicating the strength of the community | Campus FM
Fueling Our Future - Update, progress and impact
A strong economic foundation includes a healthy workforce. Strategies to build a regional workforce include both workforce attraction and workforce retention. With several higher education institutions in the FM area, keeping college graduates is an important component. Currently, the FM region retains an estimated 39% of its annual graduates. Improving our ability to retain local graduates could increase our annual talent pool by nearly 4,500 people.
Based on recent research, some of the challenges to getting students to land a job in the FM area are:
A poor sense of belonging within our local community
Limited access to local mentorship and internships
Lack of a centralized location to learn about professional opportunities
To better understand students and to more effectively communicate the opportunities, Fueling Our Future supports a program called CampusFM.
With the concept brought to the region by The Arts Partnership, and activated by Folkways, CampusFM is designed to fuel inclusive economic growth by empowering diverse college students and recent graduates to explore, live and work in the Greater Fargo-Moorhead region.
In 2022, CampusFM focused on developing student-focused curated media and experience programming to educate students on local professional, cultural and service opportunities.
Additionally, CampusFM has partnered with local marketing agencies to create a skills-development curriculum aimed at teaching college students the art of storytelling. The program, which they are calling a Creatorship, will take college students from relevant majors and train them to become social media strategists by showcasing the very best that the Fargo-Moorhead has to offer.
Through their programs, CampusFM has hired ten students and has exceeded 200,000 impressions across their digital media platforms.
In the next three years, CampusFM will increase its involvement with universities and businesses to help reduce the barriers students face in becoming involved in the local community, create connections and increase their sense of belonging.
The social impact of student engagement services
This impact value map shows the total cost required per student for a portfolio of services* that is designed to improve students' professional development and community engagement and the projected benefits generated by each student served.
Estimated Return on Investment per Student $15,440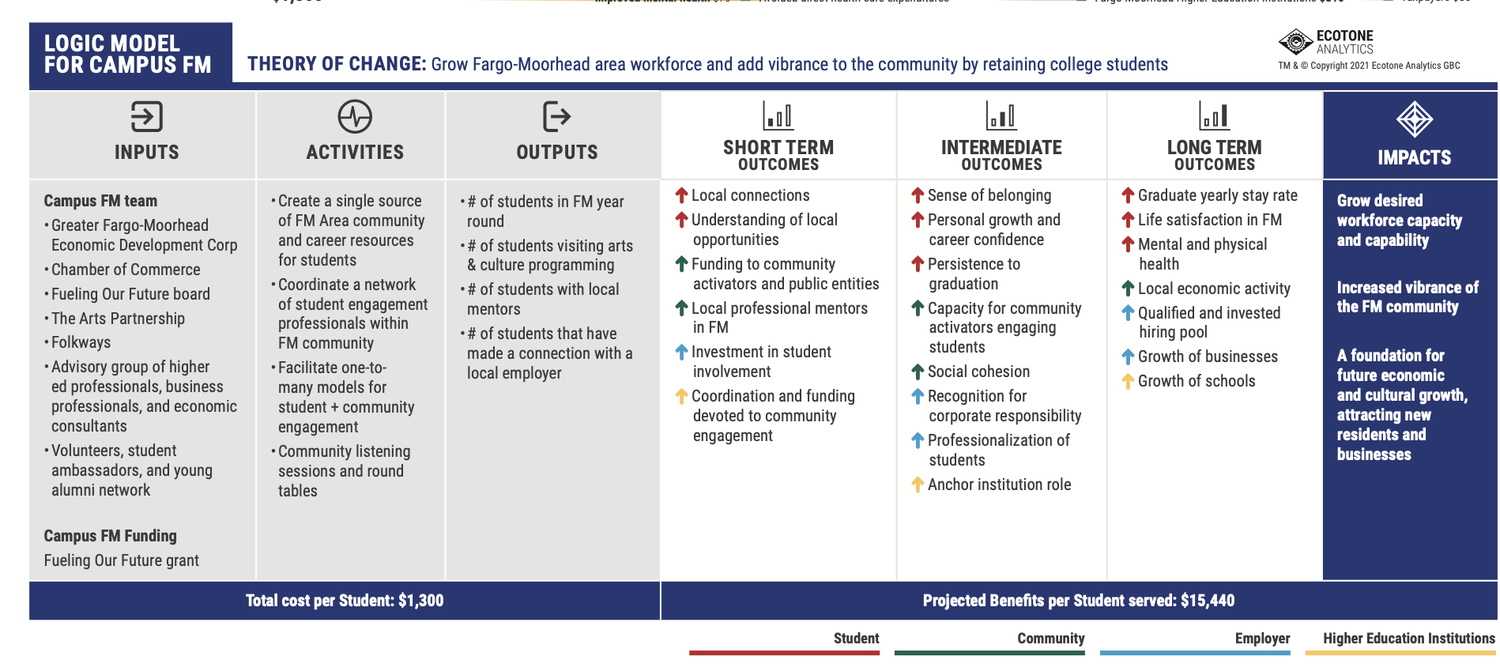 Follow them on Instagram: @campus.fm